Hotel Zach - your modern, family-run hotel in the centre of Innsbruck!
Experience the very best of Innsbruck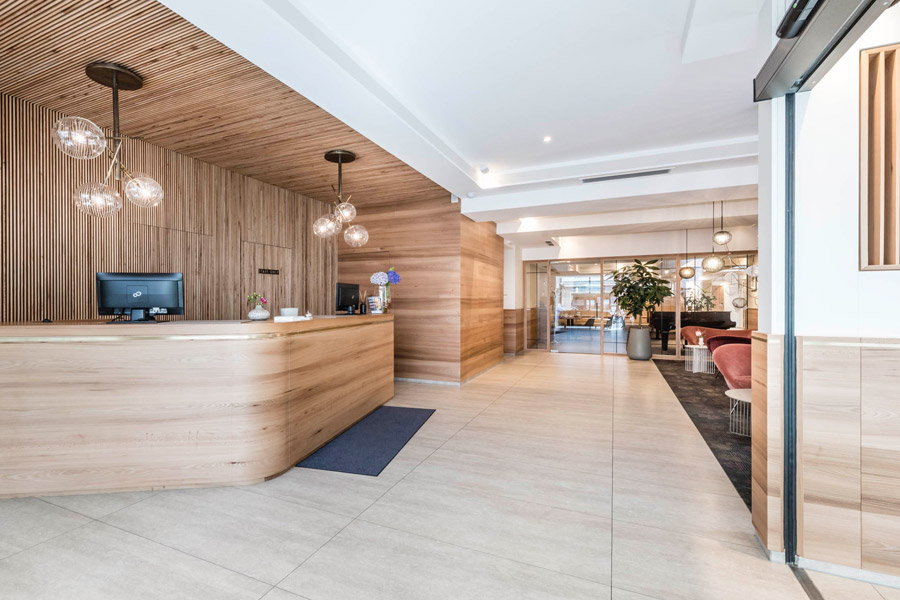 Hotel Zach – is a family-run hotel in the heart of Innsbruck's city centre. As the name reveals, the hotel is operated by Mrs Schnitzer-Zach and her team. The family tradition began in the 1940s, when the building housed a butcher's shop, and the hotel business of today is still run by the Zach family. Mrs Katharina Schnitzer-Zach M.A., the third generation of the family, has been successfully managing the business since 2006. She is also the mother of four small children, who bring joy to both her family and professional life.
Perhaps this is why families also feel right at home in our hotel.
Your Hotel Zach in the heart of Innsbruck – with future experience
In the 3 star Hotel Zach you live close to the historic old town of Innsbruck: the hotel is only a minute's walk from the unlimited shopping opportunities of the vibrant pedestrian zone on Maria-Theresien-Strasse. There are also numerous sightseeing attractions such as the Golden Roof or the Innsbruck Stadtturm watchtower only a stone's throw away. And finally, for the convenience of our business guests, the Congress Messe Innsbruck, university and railway station are only a short distance away. Despite our location in the middle of the historic old town, the hotel is actually only a hop, skip and jump away from the ski slopes and several climbable peaks. There's a strong possibility that a snowboarder or mountain-climber might cross your path in one of our city-centre cafés. Such is life in Innsbruck!
To cut a long story short, whether you are looking for a weekend getaway with the whole family, a business trip or a skiing or shopping expedition with your best friends – Hotel Zach is always the right choice.
Modern & urban with charm
Our hotel received a complete makeover in autumn 2016. Since then, the hotel has exhibited a modern and urban feel without losing any of its familial charm. A bright and stylish timber interior characterises the lobby, breakfast room and all 39 bedrooms for an all-round atmosphere of well-being. Well-being - that is also the main focus of our breakfast. After all, as we know, breakfast is the most important meal of the day! Which is why we make our guests' day with an expansive breakfast buffet. And if you should happen to eat just a bit too much at breakfast, or you don't want to miss out on your usual workout, you can easily pay a visit to our fully-equipped fitness studio with the latest equipment from Technogym®.
So, are you interested in a city trip to Hotel Zach in Innsbruck? Send us your obligation-free enquiry! We will be delighted to assist you, and look forward to welcoming you to our hotel in the near future!